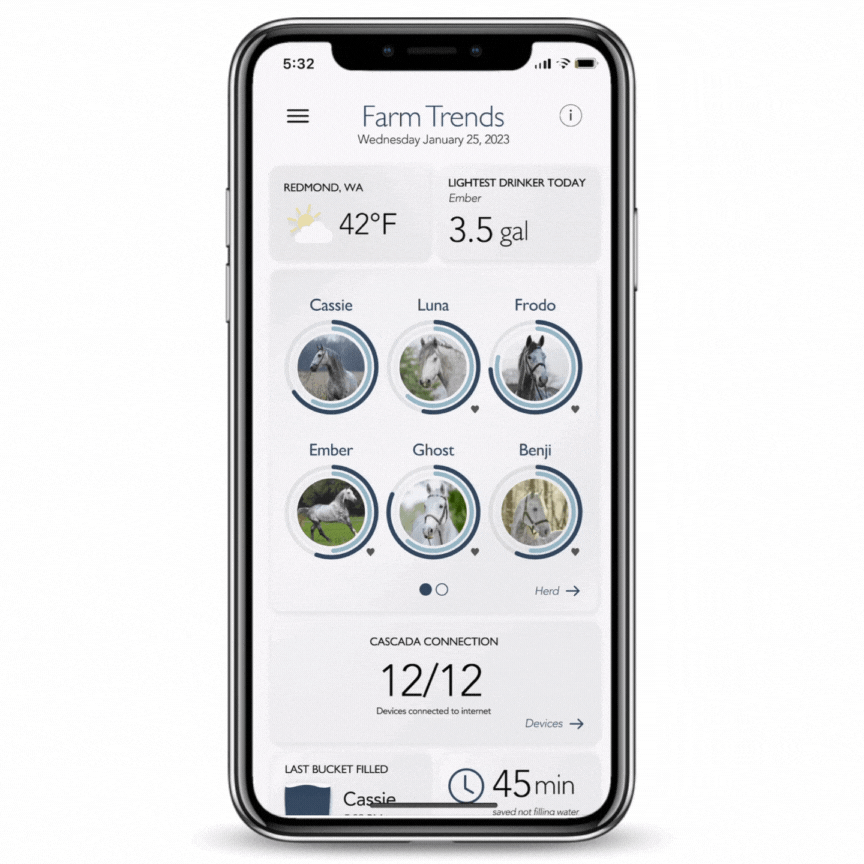 UPDATES EVERY MINUTE
See how many sips your horse has taken, how many gallons have been consumed, and how much water is in their bucket right now.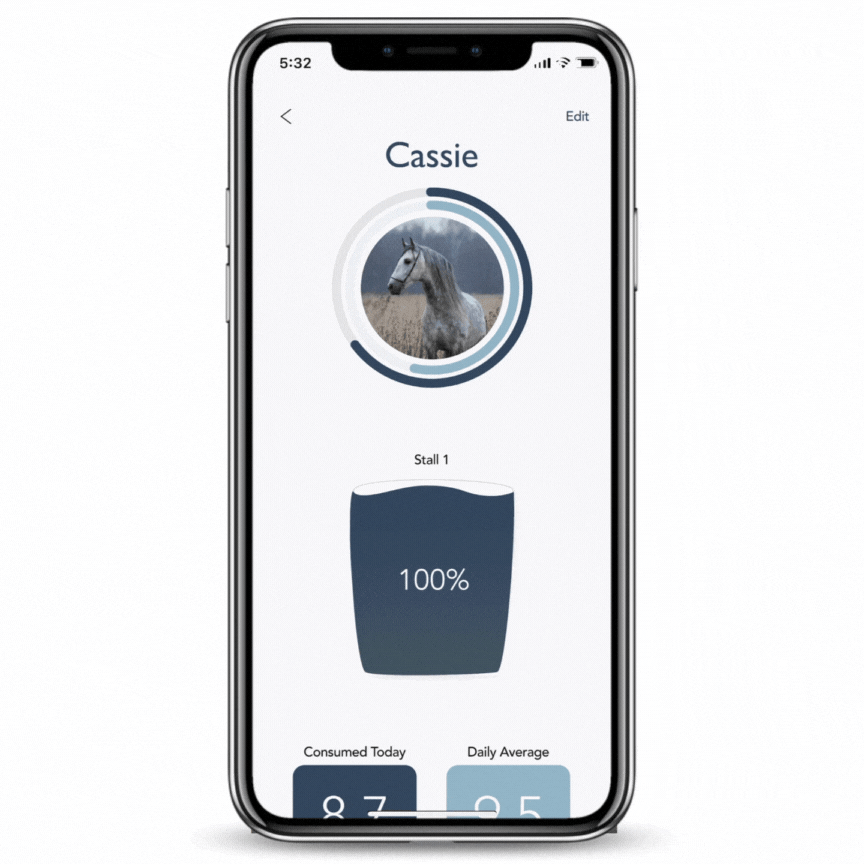 LEARNS YOUR HORSE'S DRINKING BEHAVIOR
The app tracks your horse's average drinking and compares today's drinking to the average at that time of day with hydration rings that show your horse's progress toward their normal hydration.
ALERT! YOUR HORSE IS DRINKING LESS
Push alerts to your phone keep you updated about all things water on your farm - Like letting you know if your horse's drinking behavior changes even if you don't have the app open. This allows you to intervene early before dangerous dehydration occurs, potentially saving your horse's life!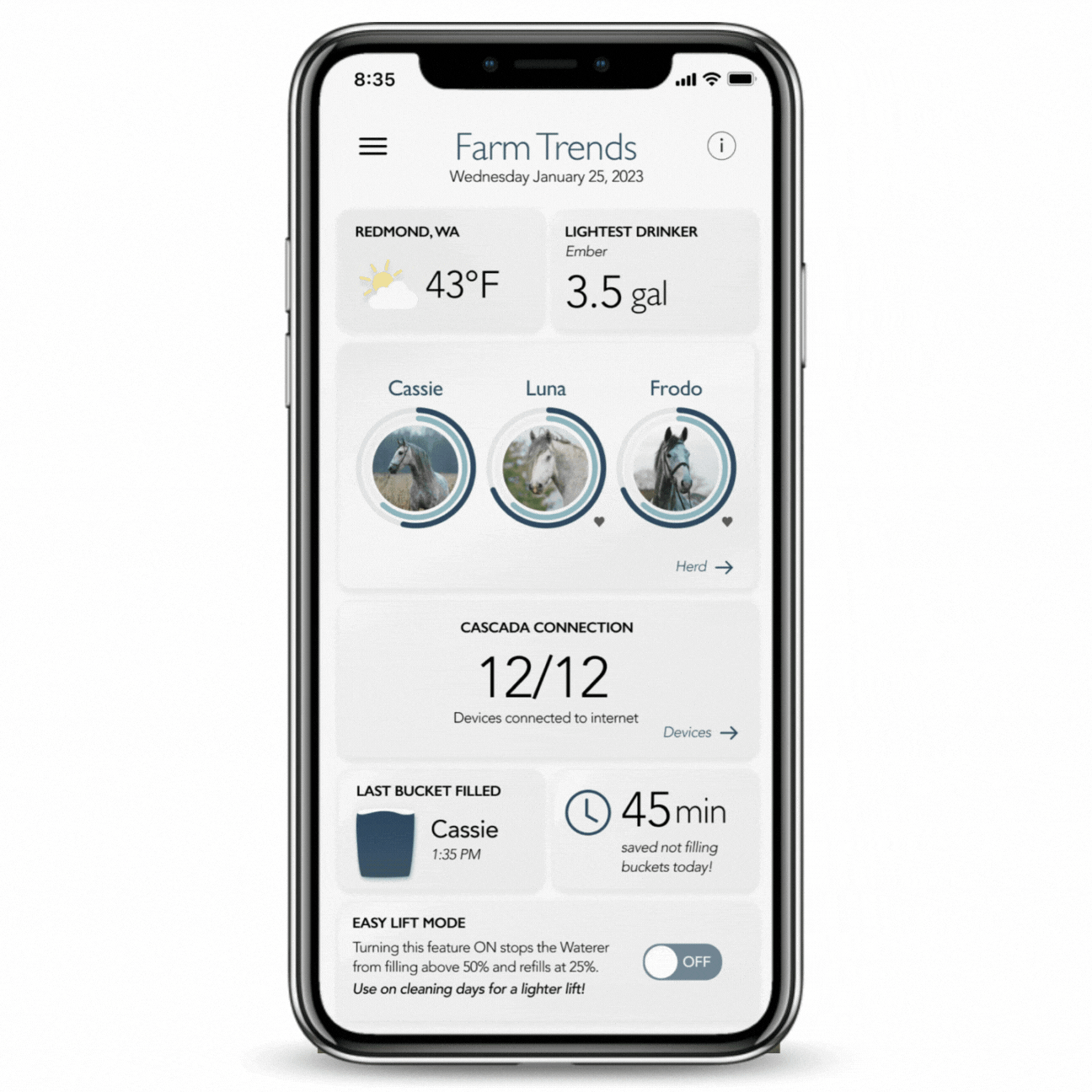 YOU'LL NEVER NEED TO LIFT A FULL WATER BUCKET
Easy Lift Mode in the app lets you set your water buckets to stay half-way full, instead of totally topped off, for a lighter lift on cleaning days.
PEACE OF MIND WITH THE CASCADA APP
HORSE-CENTRIC DATA + ANALYSIS

Personalized horse profiles allow you to view and track hydration data based on your horse's individual needs.

VISUALIZE BUCKET WATER LEVEL

The app gives you a visual of the water level in each horse's bucket so that you never have to look in them yourself to know that your horse always has water.

SMART NOTIFICATIONS

Every horse is different. The app gets to know your horse's normal drinking habits and alerts you when they may need attention.

EASY LIFT MODE FOR CLEANING

Turning on Easy Lift Mode in the app notifies the waterer to keep buckets only half-full so they are easier to remove on bucket cleaning days.
Your App Questions. Answered.
How much does the app cost? Is there a free version?

Full hydration monitoring is available with a Cascada App subscription which costs, $9.25 per month with an annual plan that bills $111.00/year or $10.99/month on a month-to-month basis.

The free version of the app still gives you visibility on your bucket level and status and access to Easy Lift Mode.
What happens to the data if my horse is gone for a while?

There is a feature in the app that allows you to easily turn off data tracking when your horse is away at a competition or on a trip to ensure the app is only tracking your horse's normal routine.

Don't worry, buckets will always refill even when tracking is off that way you can let another horse "borrow" the waterer and it won't impact the horse's hydration data.
Do I need to have WiFi in my barn?

Yes - to use the app, the Cascada must be in range of reliable WiFi.
What happens if the internet connection goes out or is unreliable?

Cascada will buffer your horses' drinking data for up to a week to account for internet outages. If the connection resumes, even momentarily, Cascada will quickly send the data to the cloud to be displayed on the app. The app will notifiy you if your Cascadas loose their internet connection so that you can troubleshoot.
Can I keep track of more than one bucket for one horse?

Yes! This is one of our favorite features of the app. You can track multiple bucket activity for one horse meaning you can see how much your horse is drinking in their stall, paddock, and/or field all aggregated within their personalized profile in the app. This is the best way to fully monitor your horses' hydration.
When should I start the free trial?

Start your free trial once your Cascada Waterers are setup and ready to go so you are able to start seeing your horses' hydration come through the app and you have a chance to experience all the features during the trial period.
Does my phone need to be close to the waterer to get the drinking data?

No! Cascada sends the data to the cloud so that it can be viewed on the app anywhere in the world! So go on vacation and still know how your horse is drinking or check on your other horses back at the barn while you are away at a show.
FREEMIUM FEATURES VS. TOTAL HYDRATION MONITORING
Get complete visibility of your horses' hydration with key health alerts and analysis for less than a bottle of fly spray! Try hydration monitoring free for 60-days.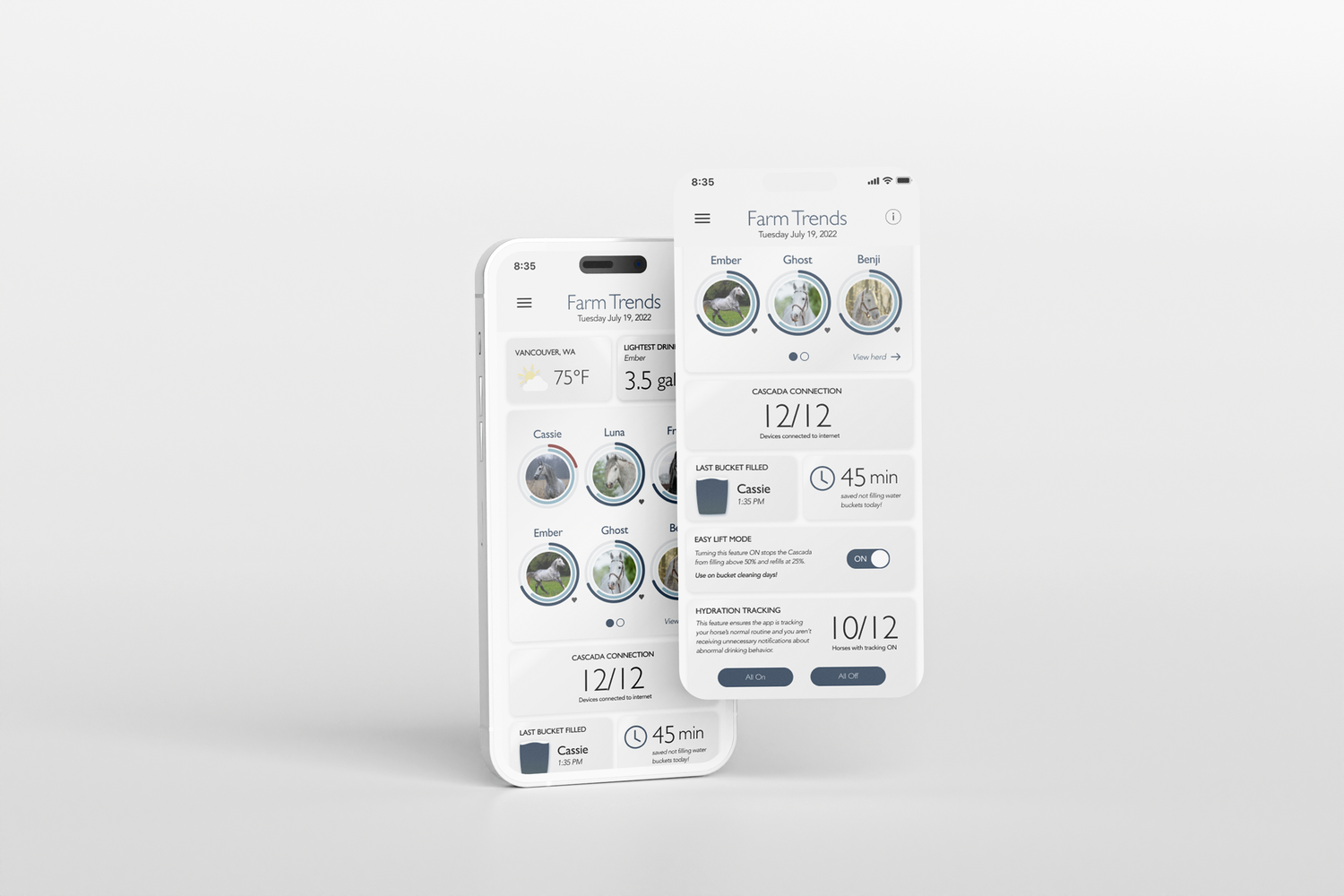 NOW IN THE APP STORE!
Feel free to download the app now to have a look around and create your horses' profiles. It's always free to create an account to configure and manage your herd and devices, plus you will receive a 60-day free trial of Cascada's advanced hydration monitoring features. Continued hydration tracking requires a $10.99/month subscription for unlimited horse profiles and devices.